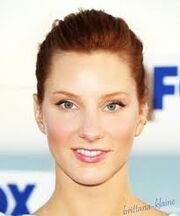 Alicia Johnson is a character in BrittanaAndKlaineLover's fanfic "Vocal Fusion." Alicia, created by SuperGleek100199, made her first appearance in Season 1, Episode 1 of Vocal Fusion.
Original InformationEdit
Full name: Alicia Johnson
Nickname:Alice
Age: 16
Grade:10
Gender:Female
Sexuality: BI-Sexual (nobody know´s,tends to be more for boys)
Vocal Range:Tenor
Social Status: Popular
Stereotype: Adorable, pretty, freaky brunette
Talents: dancing, singing, playing guitarr
Flaws: her "secret"
Personality: trustworthy, helpful, loving, a bit dumb, kind
Description: brown long hair, dark brown eyes, beautiful, slim
Audition Song: The edge of glory- Lady gaga
Favorite Artists/ Music genre /bands etc: Adele, Lady gaga, Jlo, Katy perry (Pop, Hip hop)
Background: Alice was born in new york and had lived there her whole life. From 10 years, she took dancing and singing lessons and since then she's really good at it. When she was 13 years old her parents died in an auto accident, since she lives with a good friend of her, because none of her family she wanted. She has said so far but still no one anything about it.
Portrayer:(brunette) Heather Morris
In Glee: Vocal FusionEdit
In Season 1, Episode 1, Alicia discovers the creation of Glee Club by Mr. William David Hall during the first assembly of the year. Both her and her best friend Junette Anabelle Harris are extremely excited by the prospect of a show choir. The two are shown to be very close, finishing each other's sentences and unanimously agreeing to search for the audition list after unpacking. They are both very glad to finally have a principal who supports the arts, unlike Dr. Stephen Beech. Later in the episode, Alicia auditions after June with "The Edge of Glory" by Lady Gaga. Her singing is met with cheers and dancing. Mr. James Holloway describes her performance as "awesome." Alicia is previously reduced to tears by best friend June's performance of "A fine, fine line."